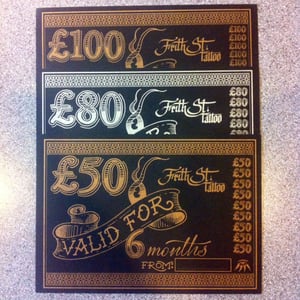 £

100.00
Stuck on what to buy your loved one or friend? They like good tattoos? Buy them an FST gift voucher.
Valid for six months from date of purchase, buy them the tattoo they've been talking about for months, or contribute to a large piece of work. They can be spent on tattoos only, not merch.
Gift vouchers start at £80, with further £50 and £100 denominations available.
Gift vouchers will be sent via special delivery to ensure they arrive safely. Please include name of recipient and their address if you would like the voucher sent directly to the recipient (if not then the voucher will be sent to the address supplied with the paypal payment).
Any purchases made without providing recipient details will be refunded and no voucher sent unless we are contacted to provide the information. The minimum purchase for vouchers is £80. Vouchers are NON TRANSFERABLE, NON EXTENDABLE and VALID FOR 6 MONTHS from the date of purchase.